Sudoku Xtra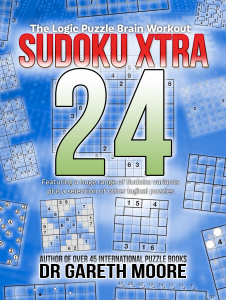 Sudoku Xtra 24 is now finally available! It's packed with 130 puzzles of a wide range of types, including a huge variety of sudoku variants.
This issue I've included some new sudoku types such as Two-grid Interconnected Sudoku, Mystery Multiple Sudoku and Blackout Sudoku. I've also made an effort to include all of the most popular variants as requested by readers, such as Consecutive Sudoku, Inequality Sudoku, Odd/Even Sudoku – and of course many more.
There's also a range of non-sudoku puzzles, including Light-up/Akari, Hashi, Slitherlink, Battleships, Skyscrapers, Calcudoku, Futoshiki, No Four in a Row, and more!
It's available either as a PDF to print yourself (every page is self-contained, so you can print only the pages you want), or as a professionally-printed book direct from Amazon – there are links for all of these on the Sudoku Xtra site.