Posts tagged
Killer Sudoku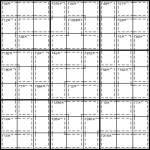 Product Killer Sudoku 9×9 puzzle
If you're interested in sudoku, come along to the official UK sudoku championship next weekend, the 29th-30th of March, at Selsdon Park Hotel just south of London, outside Croydon. There's full details on the UK Puzzle Association site. There's still spaces available.
Mind you, it's not just sudoku – there's also the UK puzzle championship taking place the same weekend, and there's a low price which includes overnight accommodation and most meals for those who take part. Winners of both events get the chance to represent the UK in the World Puzzle Championships and World Sudoku Championships.
One of the puzzles in the sudoku part of the tournament is Product Killer Sudoku, a variant on Killer Sudoku where multiplication, rather than addition, is used.
So: just place 1 to 9 once each into every row, column and bold-lined box. Also place numbers in each dash-lined cage so they multiply to the given total. You also can't repeat a number within a dashed-line cage.