Website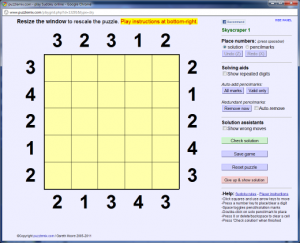 I've just added Skyscraper puzzle support to Puzzlemix. Hop on over if you'd like to try playing Skyscraper puzzles online!
This means that there are now 16 different types of puzzle on the site, plus a variety of sizes for each of those puzzle types.
I never really liked the old design of the site – it wasn't lively enough for me. I've been idly thinking for quite a while that I should do something about it, and so finally I have.
Everything's pretty much where it was before, but much shinier. I hope you like the new look!