Jigsaw Sudoku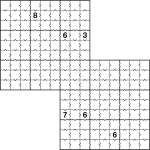 Inequality 2-grid Samurai Sudoku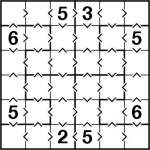 Inequality jigsaw 6×6 Sudoku puzzle
On the Sudoku Xtra forums Marilyn suggested the great idea of an inequality Samurai puzzle for issue 2, so I've been having a look at doing this. And here's the first result!
I've started off with a regular 6×6 jigsaw Sudoku, but have added inequalities, just to get you warmed up, then I've included my first ever Samurai Inequality Sudoku puzzle, albeit a 2-grid one for now.
You'll notice in both puzzles here that I have included all inequality arrows, so you have far more information than you need – this is deliberate, to make them easier! On the 6×6 puzzle there are five really nice diamond shapes in the centre area, but in general I think having all the arrows is ugly (or lazy!) so I don't plan to include them again in future (just as I've never included them in past published inequality/Futoshiki puzzles).
The rules of Inequality Sudoku are pretty simple – just place the numbers as you would in a regular Sudoku (or regular Jigsaw Sudoku in the 6×6 case), but obey the less-than ("<") and greater-than (">") signs between squares.  These indicate that the value of the number in a square is either less than or greater than its neighbour. And that's it!

Good luck!