Posts tagged
Download books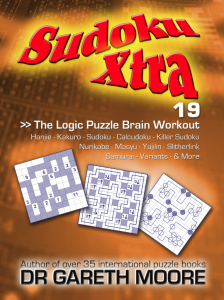 Sudoku Xtra 19 is now available for download as a PDF or pre-printed via Amazon.com, Amazon.co.uk, Amazon.de and also the French, Italian and Spanish Amazon sites.
This issue features 144 varied hand-crafted and language-neutral logic puzzles of over 50 different types, all with a unique solution which can be found without guessing.
The page size in both the PDF and pre-printed versions is now slightly larger, but the magazine is still set up so that if you print it yourself at 100% size on either A4 or Letter paper all of the content will fit perfectly on the page. This extra space has let me fit more content into less pages, so despite having 14 more puzzles than the previous issue it has 8 less pages (or 4 less in the PDF version).
In terms of content, path-finding Ultimazum is back by popular demand, and this issue also introduces Kropki Sudoku, Sudoku XV and my own Integer Multiple Sudoku. Plus there's a twist on an existing popular type with Non-consecutive Sudoku.
Other puzzles include Hanjie, Slitherlink, Yajilin, Heyawake, Nurikabe, Masyu, Hashi and many more. Other Sudoku variants include Samurai Sudoku (both 13- and 5-grid versions), Killer Sudoku Pro, Odd Pair Sudoku, Jigsaw Sudoku, Skyscraper Sudoku, Sudoku 16×16 and tens of other types.
Printed copies are on top-quality, 8.5×11 inch (21.6×28 cm) paper ideal for solving on.
Sudoku Xtra 19, available now.
I've had several requests by email, and a few in comments, about directly selling books or packs of puzzles online – in fact over the past few years I've had lots via email from puzzlemix users who want books of particular puzzle types too.
So my question to you is, what format would you expect if you were to buy a collection of puzzles?  There's no commitment to buy if you comment of course – I'm just trying to gauge what people would expect.  The options I have in mind are:
Standard book format, with colour cover and available to print or order a printed copy of.  For example see the two books I put online at lulu a couple of months ago (click through to each title and you can flick through pages of a preview which will give you a good idea of what I mean – they are fully laid-out, 'real' books)
A simple A4 or Letter-size book format, with one or two puzzles per page and no real page design other than puzzle and/or page numbers, available for online download only.
A zip archive file with lots of separate PDF files, just as you might download individual PDF puzzles from this site.
Also I'm wondering what size of collection would interest you?  I've always tended to put 100 of a puzzle together before, but perhaps 50 would be a better quantity and then I could also create regular updates for popular packs with new puzzles every month or two, depending on demand?