Online books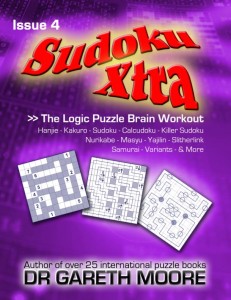 Issue 4 of Sudoku Xtra magazine is now with us!  I really think I might be putting too many puzzles into it, because typing up the list of content just knocked me out with how much is crammed into its 52 large-format pages!  Is too much possible?  I don't know, but look at this enormous list:
128 puzzles in total, including several seriously giant ones.  Brand new for this issue:
Samurai Star Killer Sudoku Pro
Number Link Samurai
Odd Pair Sudoku
Samurai Odd Pair Sudoku
Sudoku Inequality Jigsaw
Jigsaw Sudoku 6×6 Variety Pack (including toroidal, inequality, X, consecutive and killer)
Killer Sudoku Pro Jigsaw
Sudoku 15×15 and Sudoku 18×18
Killer Sudoku 15×15
Odd & Even Pair Sudoku
Killer Sudoku Prime
Regulars from issue 3:
Hanjie
Masyu
Calcudoku (three times as many as in previous issues!)
Slitherlink
Consecutive Sudoku
Hitori
Samurai Star
Samurai Star Jigsaw
Number Link
Jigsaw Sudoku 8×8, 9×9 and 10×10
Toroidal Sudoku and Toroidal Inequality
Kakuro
Futoshiki
Killer Sudoku
Skyscraper
Skyscraper Sudoku
Samurai Sudoku
SSSS: Skyscraper Samurai Star Sudoku
Sudoku Inequality
Sudoku Extra Regions
Jigsaw Sudoku Extra Regions
Killer Sudoku Jigsaw
SOS: Samurai Outside Sudoku
Outside Sudoku
Sudoku 8×8
Sudoku 12×12 and 16×16
Samurai Extra Regions
Yajilin
Nurikabe
Adding to that already exhausting list still further are the community puzzles: 

Heyawake
King's Journey (also known as Hidato[TM], Numbrix[TM] and many other names)
Mosaic (Minesweeper picture puzzle)
As Easy as ABC
Knight's Tour
Shapely Skyscraper
Isolate
Klump
And all of this for just £3.99 or $5.99 – it really is fantastic value!
If you'd like to get hold of it just pop on over to the Sudoku Xtra website!