Posts tagged
Jigsaw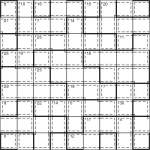 Toroidal Killer Jigsaw Toroidal puzzle
A while back someone asked for some variant toroidal patterns on PuzzleMix, so I was just adding a couple of them to the daily puzzles section when it occurred to me that I could put up a few toroidal killer sudoku too, for a change.  However I then realised that the code which creates the HTML will need editing to cope with toroidal regions, but I knew my PDF code was more flexible… and then I thought it would be great to mix this with some toroidal jigsaw regions too… and here's the somewhat confusing result!  A Toroidal Killer with Toroidal Jigsaw regions.
Now if you enjoy this twisted beast let me know, otherwise I probably won't make any more of them!

Full rules:
Place 1 to 9 in each row, column and bold-lined jigsaw region
Place numbers so that the dashed-line cages add to the total given
No number can repeat in a dashed-line cage.
Some jigsaw regions and cages 'wrap around' the outside the puzzle, continuing at the start/end of the same row/column
Good luck!