Posts tagged
brain training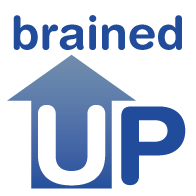 I'm incredibly excited to announce Brained Up, a cutting-edge brain training site that will help you do just that – upgrade your brain! It's based around daily online sessions that each provide a wide-ranging mental workout. The site launched just before Christmas, and already has a healthy number of daily users.
Using Brained Up, just a few minutes a day is all it takes to upgrade your brain. The site constructs a personalized training plan for every user, optimized to get the best out of your body's most important organ. Every schedule includes a wide range of brain games, ensuring full coverage of key mental skills – as well as keeping it fun throughout.
Studies have shown that suitable brain training activity can make you quicker and smarter, which can lead to improved creative, conversational and social skills. Brained Up therefore features scientifically designed exercises, based on extensive research, to help ensure comprehensive coverage of key cognitive skills, including creativity.
It's at www.BrainedUp.com.