Wrap-around Consecutive Samurai Star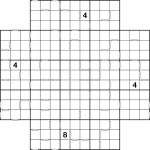 Wrap-around Consecutive Samurai Star puzzle
I seem to be posting more infrequently than I intend, so I thought I'd compensate with a puzzle that would take somewhat longer to complete!  Here, then, is a wrap-around consecutive samurai star.  All squares with consecutive values (a difference of 1) are marked with white bars, including those at opposite ends of rows and columns – wherever there isn't a bar, the values are not consecutive.
The Sudoku logic takes a few twists here and there – in fact at one point near the end you will need to spot a particularly nasty hidden set in one region.
To solve the puzzle place 1 to 9 into each row, column and 3×3 box of each of the underlying 5 Sudoku grids (including the one in the centre).  You're only given 4 givens to get going, but with the consecutive information that's all you need to find a unique solution.
Good luck!

Comments are closed.