Sudoku Xtra Issue 5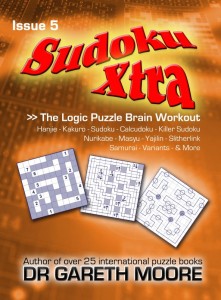 I'm very pleased to announce that issue 5 of Sudoku Xtra magazine is now available for download or in pre-printed form from either Amazon.com (US) or Lulu.com (recommended for rest of world).
This issue has even more puzzles than the previous ones, with a pretty mind-boggling 131 separate logic and number puzzles!
New content includes:
Suraromu – the latest loop puzzle from Japan
PivotPix (a.k.a. Tentai Show / Sym-a-Pix)
-4 -3 -2 -1 0 1 2 3 4 Killer Sudoku!
An extra page of Yajilin, designed to help you get into the puzzle
Some new Sudoku combinations
Plus the regular stuff is there too, including:
Another Jigsaw 6×6 Variety Pack of miniature variants
More Sudoku at more sizes than ever before
Lots of Sudoku variations on a theme
All of the other regular puzzles, from Skyscraper to Samurais to Calcudoku to Hashi to Hanjie to Kakuro and so on…
And the generous puzzle community contributors have been as creative as ever. Just look at some of the types that are in issue 5: 

Kuromasu / Kurodoko
Sudoku Times (outside products)
Hexagon 25
Shapely Alleys and Skyscrapers
Modula
Pathfinder
and more!
As always, it's designed to print well in black and white on either A4 or Letter paper, using up most of the space and without pointlessly wasting ink on large dark areas. If you have a colour printer there's a small colour trim to each issue – this month's is orange – but this prints fine as a greyscale. Pre-printed copies have a colour cover but black and white interior.
No comments yet.
No trackbacks yet.