Samurai Star Inequality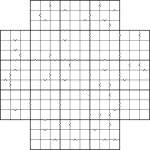 Samurai Star Inequality puzzle
I'm tempted to just say "good luck", because frankly I think you'll need it!  Not of course in the literal sense, since this is an entirely logical problem, which requires absolutely no guess work, but in terms of finding the right areas to make progress quickly.
So having started at the end, let me introduce you to this Samurai Star Inequality puzzle.  In all cases the "<" and ">" arrows point to the smaller number of each pair.  Other than that it's a regular Samurai Star – place 1 to 9 into each row, column and marked 3×3 box of each of the 5 underlying 9×9 grids (including the one in the centre).
And now back to the beginning: Good luck!

Comments are closed.